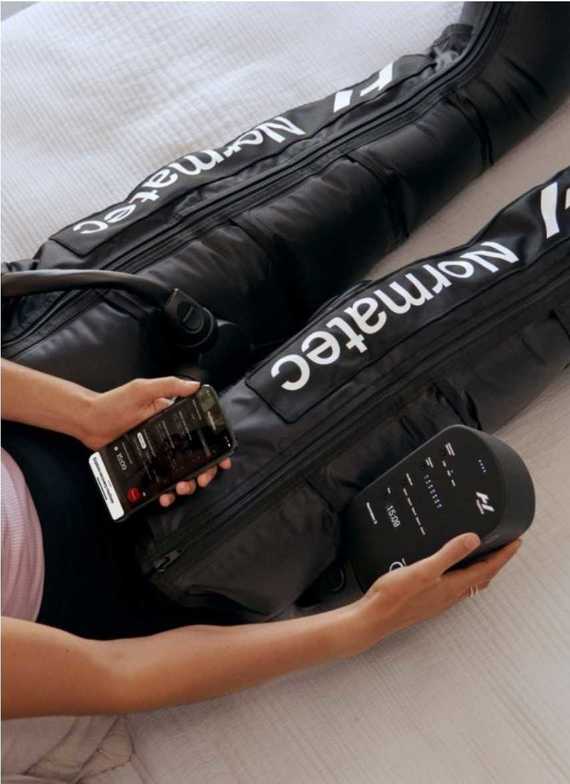 In an effort to stay on the leading edge of sports performance and recovery, we have added a new service we are excited to offer: Compression therapy.
Compression therapy has been used by doctors, physical therapists, chiropractors, massage therapists, and various other healthcare professions for many years. Compression therapy comes in multiple forms. Massage is the most common. Foam rolling and lacrosse ball work is a newer form that grew substantially in popularity in the mid-2000s. Instrument-assisted soft tissue mobilization (IASTM) has been around for thousands of years, known by different names along the way. Even compression leggings and compression socks are a form of compression therapy. The primary goal of compression therapy is to increase lymphatic drainage, which in turn decreases pain, improves performance, and hastens recovery time. New to the scene of compression therapy is pneumatic compression sleeves. While these devices have been around much longer, they have only been available to the public for the last 10-15 years.
Pneumatic compression sleeves use air pressure to compress your legs, hips, or arms to improve circulation, increase range of motion, decrease pain, and increase recovery time. It achieves this by applying compression to the farthest point (feet or hands) and then compressing the areas above it one at a time. This wave compression will take metabolic waste from the extremities and push it back toward our center, which clears the system. This clearing of the system will remove waste products from exercise or injury and brings new blood and nutrients to the area. This process improves healing and recovery.
With all these benefits, pneumatic compression therapy is becoming more popular in medical and fitness settings. Our facility offers pneumatic compression with Normatec leg sleeves. The sleeves are very safe to use and can be used before or after surgery or when dealing with acute or chronic pain. They can be used before or after a sporting event, practice, or training session. The compression sleeves are very versatile and also customizable. There are various pressure, timing, and location settings, so each session with the sleeves can be catered to individual preferences and needs.
Pneumatic compression sleeves have many benefits with very few downsides. They can be used as a standalone treatment or with other treatment and training prescriptions to make every person's experience unique. Treatment time is 15-30 minutes and pateint's remark that it's soothing and very relaxing.
If you are an athlete looking to improve your performance, or have a career that keeps you on your feet all day, you can experience significant improvements in how your legs function and feel with just one session in the sleeves.